Tuesday, February 14, 2017
Chart-Topper: Fiberglass?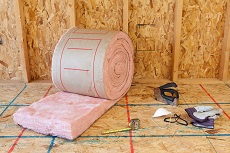 Want to know what home upgrade delivers the largest return on investment for homeowners? Believe it or not, it's fiberglass insulation.
For the second year in a row, Remodeling Magazine's Cost vs. Value Report reveals that a fiberglass insulation upgrade adds the greatest value to a home at 108 percent of the cost of the project, according to Hanley Wood, publisher of Remodeling Magazine.
The Cost vs. Value Report compares the average costs for 29 popular home remodeling projects with the value those projects retain in 99 U.S. markets on a national and regional level. The report estimates that the average cost for a fiberglass insulation upgrade is $1,343 nationwide. The assessment on the potential return gained by the homeowner at resale was provided by real estate professionals responding to the annual survey. Real estate professionals estimated that one year after a fiberglass attic insulation upgrade, the project would increase the value of the home by $1,446. The research specifically estimated the cost of adding blown-in loose fill fiberglass insulation into a 35x30 attic to reach an R-30 insulation value. The R-value refers to an insulation's resistance to heat flow. The higher the R-value, the better the insulation, according to Oliver Heating & Cooling.
According to HomeAdvisor, fiberglass batts (those large fluffy pink sheets of fiberglass) are one of the least expensive ways to insulate your home, especially when walls are already open, such as in your attic. They must be installed properly, however, as one loose corner or tear can reduce the R-value.
Fiberglass batts are ideal for those who need to insulate quickly and save money in the process. It is simply installed by anyone with a putty knife, a utility knife and a tape measure. When installed tightly and securely, fiberglass batts improve energy efficiency by 25 to 30 percent.
Again this year, as it did when it first appeared in the Cost vs. Value report in 2016, adding fiberglass insulation was the only project that had an average national return of more than 100 percent. By comparison, the average cost and average return at resale for the 29 projects in this year's report amounted to a 64.3 percent return if the home was sold within one year of completing the renovation.
Source: North American Insulation Manufacturers Association
Contact me today to learn more about which projects deliver the largest return on investment.
Reprinted with permission from RISMedia. ©2017. All rights reserved.
Mary B. Luca, MBA, ePro, Realtor
Licensed in DE & PA since 2007
Search for Real Estate on our Websites: www.TeamLuca.com and www.LucaTeam.com
Get Our Mobile Home Search APP: Text: LUCA to 87778
What's Your Home Worth: Get 3 Estimates Instantly
Area Market Trends: Instant Market Trends Report
Market Activity near your Property: ePropertyWatch
Facebook Like Our Page
I Love and Live by Referrals – please refer your family, friends & co-workers to interview me!